HOTEL LEUSDEN - AMERSFOORT IS OPEN
Van der Valk Hotel Leusden is open and will apply adapted measures as a result of the press conference of December 14.
We would like to inform you about the current measures and how we deal with them. Our highest priority is your health, safety and well-being during your stay at our hotel. We ask you to take these measures into account in order to guarantee your health and that of our employees.
We hope to welcome you soon in our safe and familiar environment.
In a nutshell:
Until the 20th of January we are unfortunately not allowed to receive guests in our restaurant but you can use our take-away service;
Meetings & Events on our room floor: The maximum number of persons per room is 30, of course we take into account 1,5 meter distance. For questions about existing or new reservations please contact our sales department;
Mouth mask obligation: from December 1st in the Netherlands there is an mouth mask obligation for everyone aged 13 years and older. The mouth mask applies in all public indoor areas of our hotel, except when you have a permanent seat.
---
RESTAURANT TEMPORARILY CLOSED
The restaurant is - according to government and RIVM guidelines - closed.
Until the 19th of January we are unfortunately not allowed to receive guests in our restaurant.
Of course you can continue to enjoy our delivery and collection service via www.valkthuis.nl.
---
MEETING ROOMS
According to the current regulations, our meeting rooms are only open for business meetings / meetings. For details, please contact our banqueting department: sales@leusden.valk.com
---
HOTEL FACILITIES
We ask all our guests to fill out a triage form at check-in in connection with possible source and contact research. These forms will be destroyed after 14 days and will only be provided on request of and to the GGD. Considering the number of questions we have to ask you regarding the corona measures, the check-in may take longer than you are used to from us. We ask for your understanding. The maximum number of 30 persons in one room does not apply when all present guests are hotel guests. We use the following measures:
We continue the tightened hygiene measures
The restaurant is temporarily closed
Take-away service can be ordered until 21.00 hours. After 20.00 hours we do not provide alcoholic beverages.
You can continue to use our delivery and take-away service via valkthuis.nl.
---
SAFE AND COMFORTABLE
At Van der Valk, the health, safety and well-being of our guests and employees has the highest priority. In order to guarantee your health and safety, we would like to ask you to observe the following policy during your visit to our hotel:
Follow indicated walking direction and hygiene measures
Wear a mouth mask in the public space; you don't have to at the table or in your room
Keep 1.5 meters distance from other guests and employees
Do not shake hands with fellow guests or hotel staff
Wash your hands regularly and in accordance with RIVM guidelines
Use paper towels to dry your hands
Cough and sneeze in your elbow and turn away from fellow guests and hotel staff
Preferably pay with pin or contactless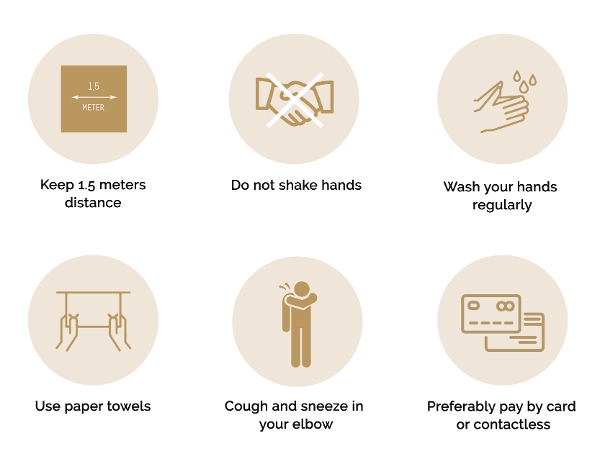 Do you have symptons of a cold, such as a runny nose, sneezing, sore throat, mild cough or increase to 38 degrees Celsius? Then we ask you to stay at home and not to come to the hotel.
We do everything we can to make your stay as safe and comfortable as possible. Thank you for your confidence in Van der Valk and we hope to welcome you in our hotel soon. If you have any questions, please do not hesitate to contact our reception.
With hospitable regards,
The Van der Valk family