HOTEL LEUSDEN - AMERSFOORT IS OPEN
UPDATE JUNE 5, 2021:
Hotel guests are very welcome at Van der Valk Hotel Leusden-Amersfoort. The measures currently in force affect our hotel and the possibilities we can offer our guests during their stay.
Our outdoor terraces are open between 08.00 and 22.00. Our restaurant is open from 12.00 to 22.00.
RESTAURANT & TERRACE
Breakfast
The breakfast buffet is served between 07.00 and 10.00 on weekdays. On weekends you can have breakfast between 08.00 and 11.00.
Lunch and Dinner
The terrace is open from lunch and dinner until 22.00. The restaurant is open from 12:00 to 22:00. Lunch is served between 12:00 and 16:30. You can dine between 16.30 and 22.00.
On the terrace there are some rules:
- Maximum 2 persons per table, except when the party consists of one household.
- Reservations can be made 'at the door
Payments
Pay your stay online in advance or on the spot with pin, credit card or contactless.
Naturally, our hotel remains open for necessary overnight stays.
If you choose to stay at our hotel in the coming period, you can rest assured that we will do everything to ensure you have a safe and secure stay!
---
Hotel facilities
We ask all our guests to fill out a triage form at check-in in connection with possible source and contact investigations. These forms are destroyed after 14 days and will only be provided to and from the GGD upon request. Given the number of questions we need to ask you in connection with the corona measures, check-in may take longer than you are used to. We ask for your understanding. The maximum number of 30 people in one room does not apply if all the guests are hotel guests.
Rooms
Due to current regulations, our rooms are only open for business meetings. Please contact our banqueting department for details: sales@leusden.valk.com
---
SAFE AND COMFORTABLE
At Van der Valk, the health, safety and well-being of our guests and employees has the highest priority. In order to guarantee your health and safety, we would like to ask you to observe the following policy during your visit to our hotel:
Follow indicated walking direction and hygiene measures
Wear a mouth mask in the public space; you don't have to at the table or in your room
Keep 1.5 meters distance from other guests and employees
Do not shake hands with fellow guests or hotel staff
Wash your hands regularly and in accordance with RIVM guidelines
Use paper towels to dry your hands
Cough and sneeze in your elbow and turn away from fellow guests and hotel staff
Preferably pay with pin or contactless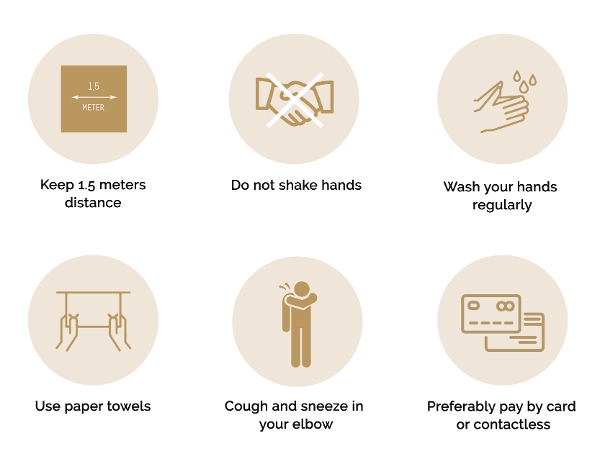 Do you have symptons of a cold, such as a runny nose, sneezing, sore throat, mild cough or increase to 38 degrees Celsius? Then we ask you to stay at home and not to come to the hotel.
We do everything we can to make your stay as safe and comfortable as possible. Thank you for your confidence in Van der Valk and we hope to welcome you in our hotel soon. If you have any questions, please do not hesitate to contact our reception.
With hospitable regards,
The Van der Valk family